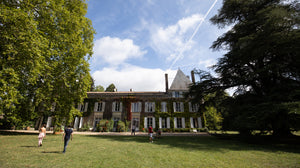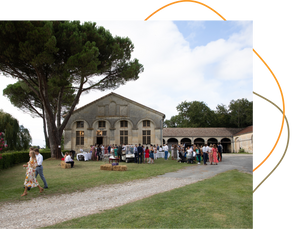 A lively place
Château d'Orignac, a family home, has been producing grapes for at least 800 years. Over the successive centuries all its occupants have been deeply involved with the spirit of the property, which has given it the timeless and serene atmosphere it has today. The first known records of the estate, indicate the year 1200, when Ythier, Orignac horseman and squire of the neighborhood married Sybille, Hélies's daughter, squire of Virollet. The building took on its present day aspect when it was modernised by Monsieur de Saint-Légier in about 1840 and surrounded by formal avenue, gardens and woodlands in order to make "a more agreable dwelling place". This was according to records dated 1864.
A place steeped in history
During the last century, Monsieur Paul Gros acquired the property from the descendants of Baron de Saint Légier and gave the Château and park its modern day appearance. Being an enterprising and innovative man, it was he who imported phylloxera resistant rootstocks from America, a disease that had all but destroyed French vineyards at the end of the 19th century. By grafting traditional French vines to their American imports, the crisis was averted. In 1930, Helene Gros married a young naval officier, Hubert Meyer. They lived for many years in different towns, driven by the whims of the Navy, returning as often as possible to Orignac, their home. At the end of the war, the man who was to become Admiral Meyer was placed in charge of negotiating the liberation of the ports of the Charente. A duty which he executed with all the rigour and exactitude of a sea-faring man, before going on to become Mayor of Royan during the sixties.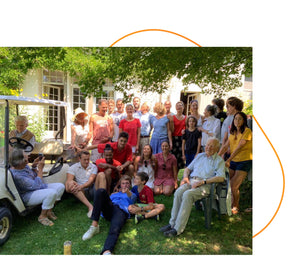 A family
Orignac giving rise to vocations, two of his children were agricultural engineers, the third, professor of Natural Sciences. When Hubert Meyer died, his daughter Odile, an agricultural engineer, managed the estate for 20 years. Today, Hervé Meyer, with the help of his son Yvan, a winemaker in Bordeaux, carries on the work of his predecessors with energy and enthusiasm to ensure that the products of Château d'Orignac remain the jewels of our terroir.